I don't know why we said it, do you?
Why, in the 70's did we emphasize important statements by starting with: "Man!"
Man, that test was so hard!
Man, look at that green Camaro!
Man, I can't wait 'till summer!
Stuff like that.
Well, even though I LOVE men, especially mine, and even though I so want to energetically emphasize my next statement, it just seems a little, well, off, or even off-putting, to say, "Man! We had the best girlfriends' weekend!"
See what I mean?
So maybe I could say, "Wow!" (nope, that's overused) or "Goodness me!" (sounds like my great-grandmother) or "Oh, mylanta!" (better not to use it if you don't have any idea what it means).
Let me just put it to you this way.
Girlfriends' weekends are the bomb.com, and we had more fun than a barrel of monkeys.
By this stage of the proverbial game, these girlfriends and I have been through many good times. SUCH good times. But we've seen some serious heartache, too. There's not much at least one of us hasn't walked through. Through the many trials, we've trudged through, pulling each other along, holding the rope, cheering each other to the other side of the thing, providing reminders of where we've been, encouraging the next steps to get us where we need to go. These are long-time friends that you can count on. Friends through thick and thin. Friends who keep your confidences and friends who pray when your heart hurts really bad.
These are also those people you can stand in the kitchen and share big slices of pie with … in your jammies … at (nearly) midnight.
We've all known each other since our newlywed days. We lived in the same small Texas panhandle town, went to the same Baptist church and attended the same newlywed Sunday School class. Oh, we were so green. Some of us got married before we had even finished college. We were all so in love with our hubbies, but knew next to nothing about how to be married! And parenting??! Well, yeah, then there came that.
Somewhere along in those years, the kids got big enough so we could leave them with their dads for a couple of days without feeling too guilty (or scared), and we started gathering for a weekend once a year. Since three of our five couples had moved to other parts of Texas, we needed to reconnect. We needed time. Time to share more than what was printed in everyone's yearly Christmas letters. (This was before texting and Facebook, you know.)
So, we celebrated the youngest's big birthday with a weekend in Fredericksburg at a beautiful farmhouse B&B and immediately started planning the next year's gathering. And then the next, and the next after that.
That was fifteen years ago.
After thirty-five years of friendship and fifteen together-trips, we still drive away from each weekend with a hefty touch of the blues.
It's just good to be with people who know and love you, isn't it? 
Man, it's just really good.
Through our years of traversing in our grocery-getting Traverses, we've easily and naturally divvied up the trip-planning. Jennifer planned a weekend on the Riverwalk in San Antonio for us one year. Robin hosted us at her home in The Woodlands once, and we've spent several weekends in "God's Country," planned by Sally, who lives in Brownwood and loves the Texas Hill Country like nobody's business. We took the men for a big trip to Napa, California one year and saw long, scenic, oceanside stretches of Highway 1 together in the back of a big stretch limo. We still talk about that trip and reminisce about the night we stayed at the beautiful Benbow Inn, in the redwoods, where Cher had once spent a night. 
Photo courtesy Benbow Historic Inn
Lisa, our farm wife from the Texas Panhandle, volunteered to plan our recent trip to McKinney, Texas, and she did a fantastic job. She organized where we stayed, where we ate, and what we did.
Of course, there were some "surprises" along the way, like an afternoon stroll over to City Hall, but we'll get to that later in the story.
So, here's how we spent the 15th anniversary of our yearly boondoggles.
A Pajama Party, A Slice of Pie and a Parking Ticket – Just a Typical Girlfriends' Weekend in McKinney, Texas  
Friday
We all drove from Amarillo, Houston and Austin to arrive in time for a delicious lunch at

Harvest Seasonal Kitchen

 on the square. Just take a look at their website, and I guarantee you'll be wanting to make a trek to McKinney, if only for lunch. This is the kind of place where everything is decorated in a slightly elegant, yet rustic style, with comfy cushioned booths to spread out in and tall rows of shelves lined with huge jars of canned veggies from local farms.
There's also a beautiful entry space with natural lighting and faux-porch-swing seating where you can enjoy some carrot hummus with sweet potato or beet chips and pretend you're sitting on your wraparound porch on some sprawling Texas acreage, watching the oil being pumped out of your ground in the distance.
Well, that's what I would be pretending, anyway.
We tried the Deviled Eggs from Harvest's appetizer menu. Never tasted any better than these, my friends. They have a candied pecan and a sweetened berry on top, and shoot, I have no idea what was mixed up in the yolk. We all said we'll never be taking deviled eggs to a party in a special dish again – they'll be sitting just like these, in a cardboard carton. Isn't that cute?
Here we are with the owner of the place. He wanted to know if we liked everything we ordered. He should have easily been able to tell we liked it because our plates were nearly licked clean. Actually, that's not altogether true. Three of us ordered the chicken fried steak, because we can do that once a year, you know, but not a one of us could eat it all. We wanted to. SO BADLY we wanted to. It was magnificent chicken fried steak, y'all. There was a bed of sour cream mashed potatoes on the bottom, then some buttered chard on the next layer, followed by the battered and fried steak, topped with creamy peppery white gravy. No wonder it's a bestseller. Mmmmm.
But we were saving room for dessert. Oh, who am I kidding? We were going to eat dessert, whether we had room for it or not.
Apple Brown Betty, they called it. With salted caramel ice cream. Four spoons. Not a smidgen left in that cute little oval-shaped cast-iron baking dish. I really want some of those cute little baking dishes, don't you?
Yes, Mr. Wells, everything was definitely to our liking.
Which softened the blow from what happened next.
If you park in the 3-hour spaces on the square and then you eat till you wanna pop at Harvest Seasonal Kitchen, beware, because you just might find yourself forgetting the time.
And trust me, the big, burly ticket-writing officer is no compassionate Andy Griffith from Mayberry, USA. No, ma'am. This guy means business. If you happen to walk up just as he's written your ticket, consider it a done deal, my friend. No mercy.
I tried to sweet talk him.
I smiled.
I gently explained that I was from the big city and hardly ever drive my car eh-neeee-waaaaayyyyy, and goodness, I forgot about the little ol' 3 hour time limit when we were busy with Brown Betty, and … oh, well, how much is it going to be, O Big, Unsympathetic Officer of the Law?
"It could be $42 or $1000, depending on how nice a person you are."
That did it.
Two of us traipsed ourselves over to Municipal Court (one block off the square) and then over to City Hall (at 4:20), but try as we might, no one was willing to budge.
So the ticket got paid. At least we qualified for the nicer end of the payment scale.
Then somebody in the group (it wasn't me) decided we should just put our spiritual maturity into practice and count this among our many Joel Osteen-ish blessings.
And while we struggled with that just a minute, we ultimately declared that, well, it truly was a blessing, because, since we did have to walk all over town, we could, therefore, justify a piece of pie.
See how well that spiritual maturity thing works out?
Robin and I kept the getaway car warm while  Lisa and Jennifer ran inside Emporium Pies with our permission to choose whatever looked good.
I wish I could show you how good they looked, but by the time we opened up these adorable little individual pie-baskets, nobody could think straight enough to Snapchat or Instagram or anything else.
If you're wondering, though, here are the names of the tantalizing types we got (and ate in our jammies while watching the Winter Olympics).
Blueberry (so yummy)
Key Lime (so creamy and limey)
Apple Crumb (so heavenly)
Cloud Nine (beyond delicious)
Here's how the website describes Cloud Nine:  A heavenly trifecta of house made caramel, rich and creamy butterscotch custard and brown-sugar meringue toasted like a marshmallow. This decadent pie is a customer favorite that brings smiles when it arrives each fall, and many tears when it's gone again. With a glass of milk, the flavors are truly divine. $6 Slice | $30 Whole Pie
Speaking of being in our jammies, here's a picture of where we lounged in the house Lisa found for us on Airbnb. It was 6 miles outside of town, nestled into the trees, had plenty of space for us to spread out, a lovely farmhouse kitchen with lots of fun antique dishes and bowls, and it was warm and cozy.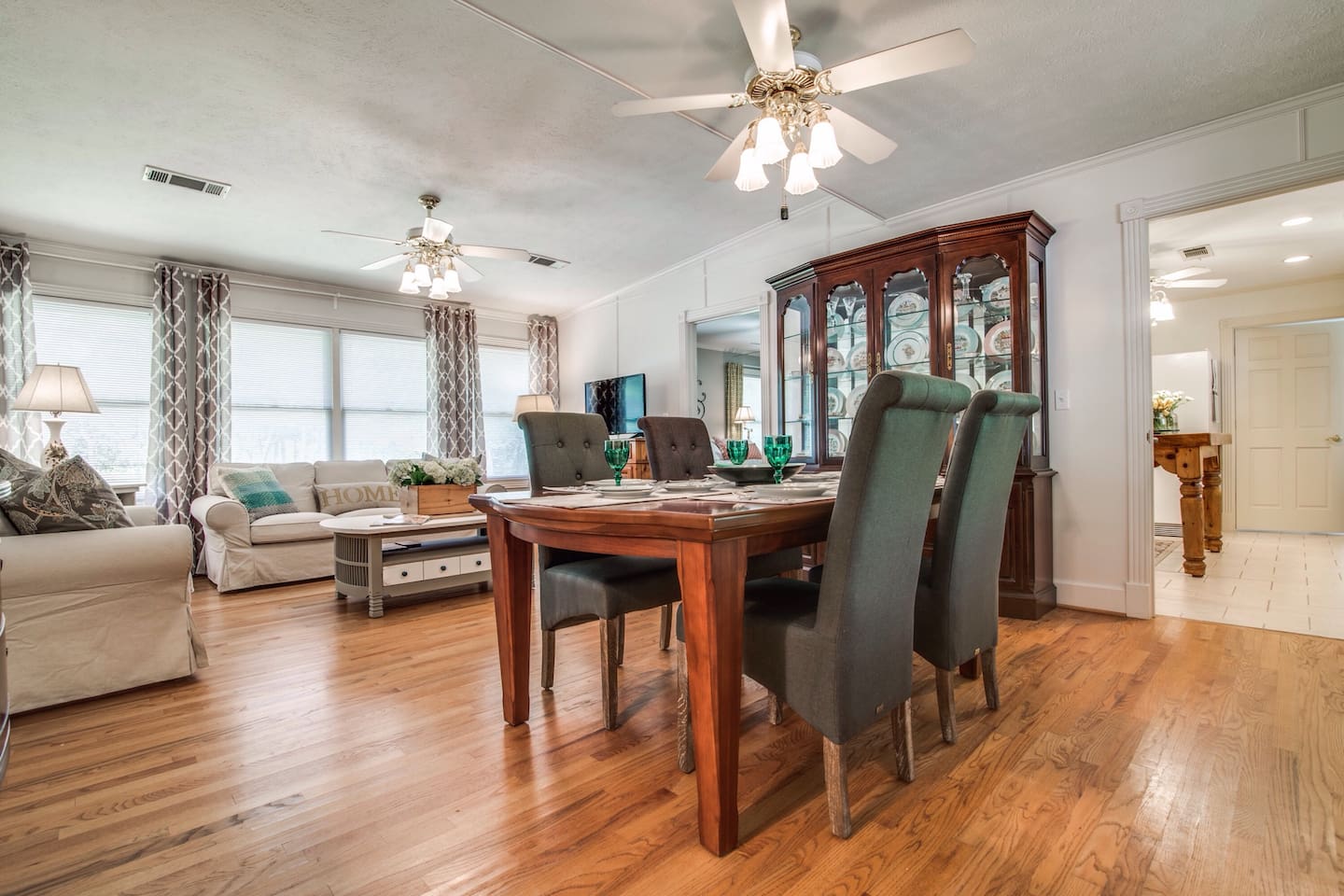 This place is called The Cardinal Cottage because, when the morning dawns, the most beautiful little red cardinals appear on the tree branches and all around the country yard.
Jennifer is our birdwatcher. We went at least 10 years on these trips together before we knew it, but she's very knowledgeable about birds. There's a sweet reason why. Jennifer's dad, who passed away last year, was a farmer. He had a fancy pair of binoculars, a couple of good reference books, and a little time in his later years to watch for the country birds that nested on their place.
As Jennifer's mom began to experience dementia and her parents became more and more homebound, watching birds gave her dad something else to talk about with Jennifer when she called every day. So, we knew. We knew when she looked out the country kitchen window of our home for the weekend and said, "Oh, look at the cardinals, y'all!" and, "Those others are robins," that in her heart she was remembering sweet conversations with the first man she ever loved.
Saturday
One thing we like about our weekends is setting a Saturday morning breakfast table and enjoying a leisurely time around it together. We always ask a blessing on the food, the day, and our families, and we give the Lord much praise for all the things we've seen him do in our lives. Yes, these times around the table are sweet and reflective moments.
The owner of the bnb left us a bowl of muffins to munch on, and the tablecloth was already hanging on a towel rack for us to use. It was cold and wet outside, but so warm and homey around our breakfast table.
Next, Lisa cranked up the Pandora 70's Lite Rock channel on her smart phone and we dolled ourselves up while singing along with the Doobies. It takes a while to get all four of us publicly presentable, but soon we were bundled up and strolling the historical sidewalks of Downtown McKinney, Texas.
Each shop had a personality of its own, dazzling wares, and earthy candle scents floating from the brick walls all the way to tin-tiled ceilings. Truly, shopping in McKinney is a delightfully sensory experience.
Look at that poor guy over there. He looks like he's wondering where his wife wandered off to and how much longer it is till lunch.
Robin especially loved this photo of a bridge that ends in the waters off the edge of somewhere, in the early morning fog. Robin has a way of walking into a store and spotting the sensational at first glance anyway, but this is truly an exceptional piece, isn't it?
Do you know what I love? A chalkboard menu! This one, inside Snug on the Square, was chock-full of chalk-board offerings, like pimento cheese on honey wheat bread, and tortilla soup. Yummmm. It was so good. (In Austin, one of my favorite chalkboard menus is behind the counter at Walton's Fancy & Staple.)
And how about this wall art? Sections of books are placed on the wall and used as a backdrop for a beautifully scripted word. Flourish. Don't you just love it? I like the symbolic nature of that artwork, for sure. Across the pages of your life and all the words of your journals, what word ties them together? What one word is capable of telling the entire story? Hmmm. That's worth thinking about.
Over pie.
In your jammies. LOL!
And then came the shop with all the cute baby stuff. Ahhhhh. We're at that wonderful, magnificent, ecstatic, enraptured stage of life. Grandparenting. Lisa is the last of the group to become a grandmother, and oh, we can hardly wait. Her first gbaby will be here in just a few weeks. And then, oh, blessed yes, then she'll know what we've tried hard to describe. She will definitely know. But for now, they don't even know if it's a boy or girl! The mommy and the daddy decided not to find out in advance. Isn't that exciting? Blue or pink, snips & snails, or sugar and spice, one thing's for sure. It's going to be a baby. And babies are the biggest blessings of all … if you ask us grandmothers.
Do you like candles and lovely smelling lotions as much as I do?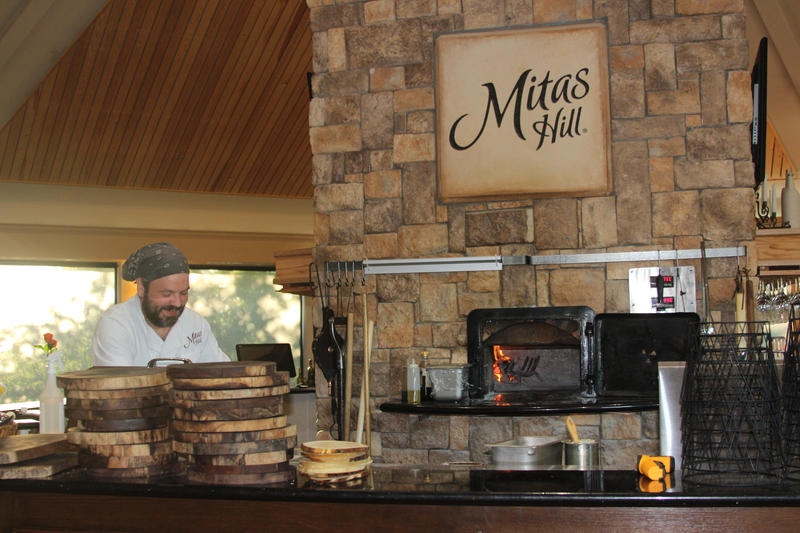 The day was coming to a close and we hadn't eaten in like 30 minutes, so we talked ourselves into an early dinner at Mita's Hill Vineyard, where the wood-fired pizza was outstanding, and so was the wine.
Mita's is set back in a luscious grove of vineyards and trees at the end of a winding country road outside of McKinney, and is well worth the drive. It's a very relaxing place, made more so by the huge fireplace in the center of the dining room.
Sunday
Photo courtesy Sugarbacon Proper Kitchen
Sunday morning, we sniffed our way to brunch at Sugarbacon. Now, I'm the first to say that we have ah-mazing food in Austin, but I was also really impressed with every meal we had in McKinney, including the pork belly appetizer at Sugarbacon. There's a good reason this place is a local favorite!
We hadn't gotten a good picture of the four of us together, so we asked a stranger in the restaurant's parking lot to oblige. He said he'd be happy to do that, and that he was even a professional photographer.
Well, we pretty much got what we paid for, but then again, our selfies would probably have been worse.
I love the faces in this picture, perhaps even my own. Gone are the days when we meticulously critique our imperfections. Ain't nobody got time for that. We're too busy counting our blessings to worry about our wrinkles. 
Oh, don't get me wrong. We compare notes. We shave our legs. We still talk about what we've always talked about, if you know what I mean.
That part hasn't changed.
Remarkably, though, instead of being glad for a getaway from the kids and the husbands like we once were, we talk about how much we love our families and how glad we are to have stuck out our marriages.
We really missed our sweeties, in fact and even
 talked about letting them join us on the next boondoggle.
Ah, man! We might have to share our pie. 
Encouraging lives filled with everyday, on-purpose, intentional adventure, making new memories with old friends,
PS: Our friend, Sally, didn't get to come to McKinney, but we sure missed her. Without her, these yearly boondoggles would never have gotten started!
PSS: Be sure to sign up to receive my weekly newsletter and receive a free copy of my 50 Ways to Celebrate the Fabulous 50's!