No one who enjoyed a cup of coffee in 1888 would have been drinking it while strolling down Congress Avenue.
The paper cup wasn't even invented until 1907, and these things were a long ways from the imagination of absolutely everyone.
Before a man named Walter Cecil developed his patented version in 1936, there was no paper cup with a handle on it. And then it wasn't until 1964 that fresh coffee was sold in to-go cups, when 7-Eleven  on Long Island, N.Y., became the first chain of convenience stores to sell it.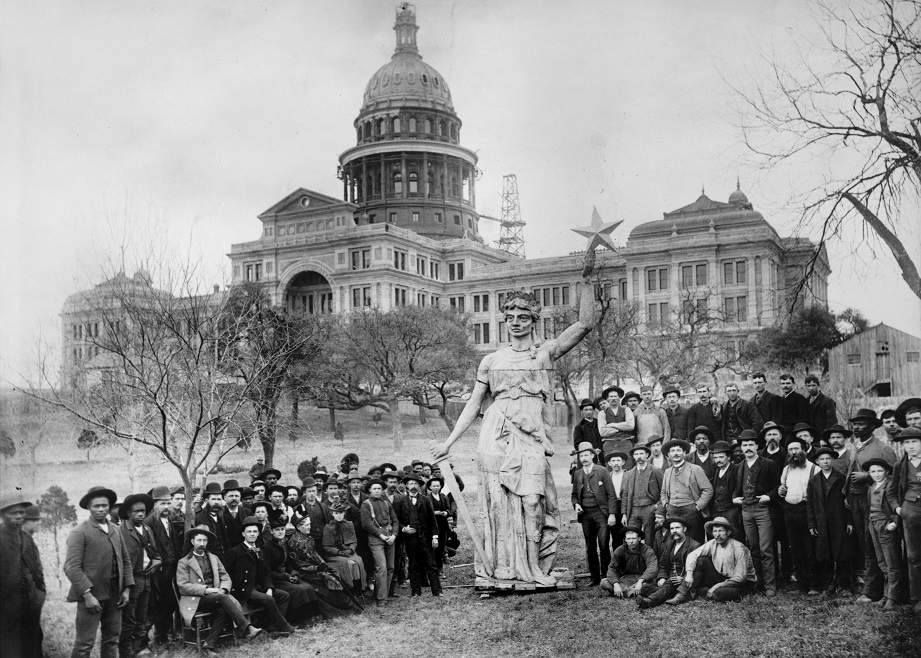 Photo (1888) courtesy Texas State Historical Association. Read more about of the history of how the Texas Capitol building was built here. 
But nowadays? Well, statistics say Americans are drinking way over 400 million cups per day, y'all, and we Texans are certainly doing our part.
Especially on Congress Avenue, deep in the heart of the Lone Star State's capital city.
13 Capital Coffee Shops on Congress Avenue
Both Medici locations on Congress Avenue offer a relaxing experience, but the outdoor seating at the 2nd Street location is an especially nice spot to watch the world go by while sipping a luxurious Cortado.
Photo – Texas Over Fifty
The Starbucks location at 6th & Congress inside One American Center is one of the busiest around, but the baristas here are super speedy. There's not a ton of room to sit; however, if you can snag a table that's situated down the side hallway, it's a pretty private spot to work, talk, write or read my favorite book about Austin.
There is no outside seating at the 6th & Congress location, there are green umbrella tables at the 1001 Congress address, and the store inside the JW Marriott offers comfy seating upstairs, along with a lengthy wooden laptop station set against second floor downtown views.
Photo – Texas Over Fifty
Quattro Gatti isn't really known as a coffee spot, but if you're looking for a delicious dessert-style Caffé Shakerato on Congress Avenue, I think this is the only place to get it. Just think how lovely that would taste after an evening performance at Austin's historic Paramount Theatre. Delicioso, miei amici!
Photo courtesy TheMerryThought.com where you can snag a recipe for the homemade version
One of these little baked-fresh-daily numbers sure would be yummy with a cup of Lavazza coffee, wouldn't it?  If you'd rather have a savory croissant, though, they've got those, too. Check the menu here.
Photo courtesy CaffeAragona.com
When Mike and I lived in Austin, we happened upon Caroline during one of our many early Sunday morning walks around downtown before church. Although the coffee was slowly brewed from the finest of beans, our love for this place was instead, instant.
Photo of Caroline's Golden Milk Latte and Marshmallow Latte courtesy yelp.com 
Austin's oldest independent coffee house is here on Congress Avenue, paired up with the Hideout Theatre. They have coffee, pastries, improv, lessons, birthday parties, and a Building Connections program for special needs kids.
Capital One is making it easy and appealing to do your banking, ask financial questions or attend a money workshop while charging your devices over a cup of Peet's coffee. What a great idea!
Photo courtesy Austin.Eater.com
The baristas at Houndstooth are experts. Not only that, but they don't mind letting you get a close up view of their perfected processes. If you're the inquisitive kind, spend a few minutes at the Houndstooth bar asking good questions about the brew, the bean selection and whatnot.
Photo – Texas Over Fifty
Floyd's tagline is true. "Hard to find, Easy to love." Located in the basement at 301 Congress, Floyd's caters mostly to people who work in the building, but it's worth finding if you work downtown anywhere. Check it out and see if you agree.
Photo – Texas Over Fifty
Just step through any entrance to Fareground, Austin's first food hall, and you'll wonder where in the world everyone ate before they opened this lovely space. It's packed with people, but there's plenty of space to sit, talk and eat, so don't let the crowd scare you away. Also, if you're looking for a good espresso drink, this last spot on our Congress Avenue coffee-walk will not disappoint.

Thank you for taking this little walk down Congress Avenue with me today.
Just think, we only talked about coffee north of the river. We'll have to take another coffee tour down South Congress soon. After the caffeine wears off, though, ok?
Encouraging intentional adventure and a very capital cup of coffee (or 15 of 'em!) on Congress Avenue in the heart of Austin, Texas,