No one who enjoyed a cup of coffee in 1888 would have been drinking it while strolling down Congress Avenue.
The paper cup wasn't even invented until 1907.
Before a man named Walter Cecil developed his patented version in 1936, there was no paper cup with a handle on it. And then it wasn't until 1964 that fresh coffee was sold in to-go cups, when 7-Eleven  on Long Island, N.Y., became the first chain of convenience stores to sell it.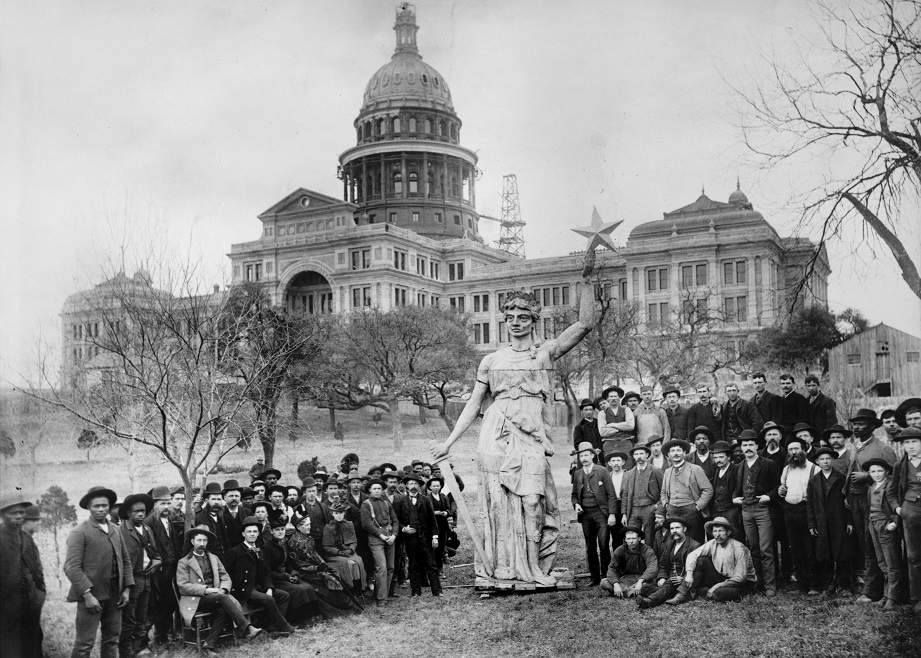 Photo (1888) courtesy Texas State Historical Association. Read more about of the history of how the Texas Capitol building was built here. 
If the Goddess of Liberty could talk, she would have a lot of history to tell, wouldn't she? No telling how many people she's seen gazing at this beautiful building while carrying a cup of coffee, right?
Especially now, when Americans are drinking way over 400 million cups per day, we know what we like and where to find it, and on Congress Avenue, there are plenty of places to get it.
If you start at Cesar Chavez Street, head up the west side of Congress Avenue toward the Capitol Building, then cross the street and walk south again in the direction of Lady Bird Lake, here's what you'll find.
16 Places to Get a Great Cup of Coffee on Congress Avenue
I'm not very good at math, but I think that means you can have about 1.6 cups of great coffee per block! So, let's see. Would you care to take a walk?
Good! Let's start here.
Using beans roasted in Minneapolis, MN by Spyhouse Coffee Roasters for its espresso, and Trouble Maker by Wild Gift, an Austin-based roaster, Caffe Medici serves its customers an outstanding cup every time. Both locations on Congress Avenue offer a relaxing experience, but my favorite part of this one is the outdoor seating where you can watch the world go by while sipping your luxurious Cortado. Sunday mornings are especially nice at Caffe Medici.
Hours:  6:00 am – 7:00 pm Monday – Friday / 7:00 am – 7:00 pm Saturday and Sunday
Mike and I shared the muffin but were completely selfish with our coffee choices at Caffe Medici. 
This Starbucks location in One American Center is one of the busiest around, but these speedy baristas can handle it. There's not a ton of room to sit; however, if you can snag a table that's situated down the side hallway, it's a pretty private spot to work or talk or write in your journal. There is no outside seating, but there are some park benches close by. This is the Starbucks where I first heard about the totally-life-changing Medicine Bomb.  So many customers have now asked for it, Starbucks had to give it an official name: Citrus Mint Tea. But if you can't remember, just ask for Medicine Ball/Medicine Bomb/Coldbuster and the baristas will fix you up! It's truly a healing drink when you're under the weather.
Hours:  5:30 am – 9:00 pm Monday – Friday / 6:00 am – 9:30 pm Saturday / 6:00 am – 7:00 pm Sunday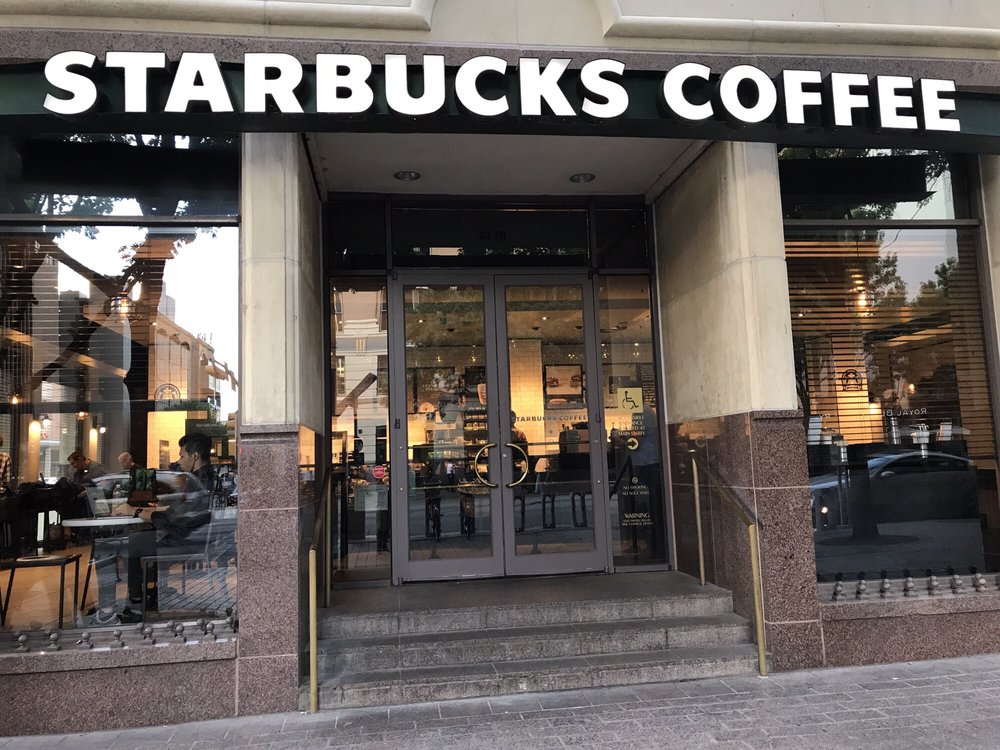 Photo courtesy yelp.com
While the same great coffees are served at both ends of Congress Avenue by Caffe Medici, the interior décor is distinctively different inside each store.  This location at 800 Congress has a walkup window, and the other one is walk-in only. Another similarity is that both locations have available outdoor seating, but this one is set with a few more tables for groups and also has individual rocking chairs right there on the sidewalk.
Hours:  7:00 am – 5:00 pm Monday – Friday  / Closed Saturday and Sunday
Photo courtesy yelp.com
Quattro Gatti isn't really known as a coffee spot, but if you're looking for a delicious dessert-style Caffé Shakerato on Congress Avenue, I think this is the only place to get it. Just think how lovely that would taste after an evening at Austin's historic Paramount Theatre. Delicioso!
Hours:  11:00 am – 10:00 pm Monday – Thursday  / 11:00 am – 11:00 pm Friday / 12:00 pm to 11:00 pm Saturday /  Closed Sunday
Photo courtesy TheMerryThought.com where you can snag a recipe to try making your own Caffe Shakerato.
One of these little baked-fresh-daily numbers sure would be yummy with a cup of Lavazza coffee, wouldn't it?  If you'd rather have a savory croissant, though, they've got those, too. Check the menu here.
Hours:  7:00 am – 6:00 pm Monday – Friday  / 10:00 am – 3:00 pm Saturday / 10:00 pm to 3:00 pm Sunday
Photo courtesy CaffeAragona.com
Ok, let's take a short break on our walk down Congress Avenue and just gaze for a hot minute at the Capitol Building as it looks today.
If anyone in Austin gets tired of visiting this spot, I've never heard them mention it.
One night recently, Mike and I stood in the dark, looked all the way down Congress, noticed the angle of the hill, and pondered out loud what it would have been like to hear the horses and buggies go by on the dirt streets of days gone by.
Since I'm pretty hooked on carrying my coffee everywhere, I'm feeling extra-blessed to live here in 2018.
Also, I'm pretty hooked on cars with air conditioning.
If you want to stay a little longer, we can sit on a park bench, walk around the perimeter, or take a tour, but then we better scurry our caffeinated selves down the opposite side of Texas' Main Street if we want to check out the rest of Congress Avenue's coffee.
This location of Starbucks is the smallest and most compact, but you can still order your favorite mocha/latte/frap – and they do have those signature green umbrella tables out on the sidewalk. That counts for a lot, doesn't it? Bring along my favorite book about Austin and you could spend the whole day sipping and reading right here, my friend.
Hours:  6:00 am – 7:00 pm Monday – Friday  / 7:30 am – 7:00 pm Saturday / 8:00 pm to 7:00 pm Sunday
Photo courtesy Starbucks.com
Mike and I happened upon Caroline on a Sunday morning walk. We love to take a long walk before church on Sundays. Sometimes, if we bump into a new breakfast taco joint or a coffee trailer we've never tried, we'll check out the menu or try something from it. That's the way it happened with Caroline. They had just opened that weekend. We stepped in to have a look around, but the coffee smelled so goo. We ended up enjoying the most luxurious cup of black coffee, served in a beautiful white cup and saucer. We've been back several times, but I just have to tell you, if I could go to Caroline every single day, I would do it. I love this place. Btw, that luxurious coffee is made from a Brazilian bean, roasted locally, over on the east side, at Little City.
 Hours:  6:00 am – 1000 pm daily
Photo of Caroline's Golden Milk Latte and Marshmallow Latte courtesy yelp.com 
Austin's oldest independent coffee house is here on Congress Avenue, paired up with the Hideout Theatre. They have coffee, pastries, improv, lessons, birthday parties, and a Building Connections program for special needs kids. Check it out at the video below.
Hours:  7:00 am – 10:00 pm Monday – Wednesday  / 7:00 am – 12:00 am Thursday-Friday / 8:00 am to 12:00 am Saturday / 8:00 am to 10:00 pm Sunday
When you walk around downtown, you'll see people carrying coffee from one of Royal Blue's six locations.  I love Royal Blue Grocery for all manner of reasons, and I'm not the only one. If you come to Austin for a convention or to spend a few relaxing days of vacation, you owe it to yourself to step into a Royal Blue Grocery, where you'll find local treasures, like caramels from Chocolaterie Tessa. They really taste scrumptious with a cup of Royal Blue coffee.
Hours:  7:00 am – 12:00 am daily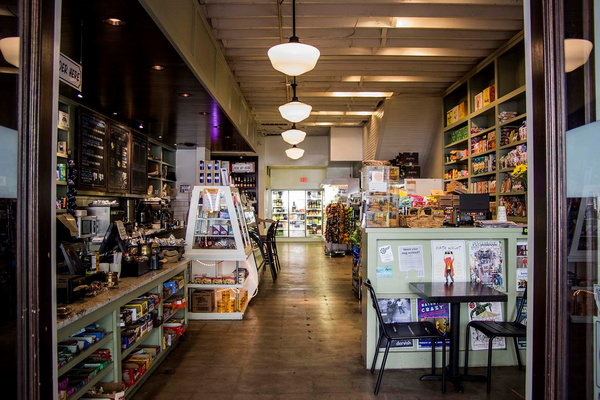 Photo courtesy RoyalBlue.com
Capital One is making it easy and appealing to do your banking, ask financial questions or attend a money workshop while charging your devices over a cup of Peet's coffee. What a great idea!
Hours:  8:00 am – 7:00 pm Monday – Friday  / 8:00 am – 4:00 pm Saturday / Closed Sunday
Photo courtesy Austin.Eater.com
Located inside the Bank of America building at 6th and Congress is Brian's Brew, where they sell woodfired coffee from Summermoon. That makes the coffee appealing in itself, but so does their order ahead feature. See Brian's website for more details.
Hours:  7:30 am – 1:00 pm Monday – Friday  / Closed Saturday & Sunday
Photo courtesy yelp.com
The baristas at Houndstooth are experts. Not only that, but they don't mind letting you get a close up view of their perfected processes. If you're the inquisitive kind, spend a few minutes at the Houndstooth bar asking good questions about the brew, the bean selection and whatnot. Oh, and if you treat your college kid to a morning java at this savvy downtown spot over spring break, you can likely count on a conversation pretty much as deep and satisfying as this pour over.
Annie's has the style of a European sidewalk cafe, where you enjoy a beautiful latte on a white tablecloth. This wouldn't be the place to get a to-go. This would be the place to sit a little while and maybe have lunch, followed by coffee, or brunch, starting with it. Check out the menus here.
Hours:  8:00 am – 2:30 pm Monday – Friday  / Brunch 9:30 – 3:00  Saturday & Sunday
Photo courtesy yelp.com
Floyd's tagline is true. "Hard to find, Easy to love." Located in the basement at 301 Congress, Floyd's caters mostly to people who work in the building, but it's worth finding if you work downtown anywhere. Check it out and see if you agree.
Hours:  7:00 am – 4:00 pm Monday – Friday
Here we are at our 4th Starbucks stop on Congress Avenue. With its recognizable branding in the window and its peppermint mochas in the cup, this location is the most traveler-comfortable. There's plenty of cushioned seating, but also a long wooden desktop stretching across the windows on the other side of this large space. It's a great place to catch a few minutes on your laptop or check Facebook when taking a break from your meeting. They're also open early enough for your favorite post-run brew after a few morning miles on Lady Bird Lake.
Hours:  6:00 am – 6:00 pm Monday – Saturday / 6:30 am – 2:00 pm Sunday
Just step through any entrance to Fareground, Austin's first food hall, and you'll wonder where in the world everyone ate before they opened this lovely space. It's packed with people, but there's plenty of space to sit, talk and eat, so don't let the crowd scare you away. And if you're looking for a good espresso drink, this last spot on our Congress Avenue coffee-walk will not disappoint.
Photo taken at Fareground's soft opening. It's a truly lovely space and a welcome addition to Austin's incredible downtown ambience.
Thank you for taking this little walk up and down Congress Avenue with me today. Just think, we only talked about coffee north of the river. We'll have to take another coffee tour down South Congress soon. After the caffeine wears off, though, ok?
Encouraging intentional adventure on a historical avenue near you,
PS – Be sure to sign up to receive my weekly newsletter! When you do, you'll receive a free printable copy of my 50 Ways to Celebrate the Fabulous 50's!