Summertime … and the livin' is easy.
– DuBose Heyward and George Gershwin
If you're good about introducing your children to different genres and styles of music, you're to be commended.  So very wholeheartedly commended, I say.
If

my mother

had not introduced me to Gershwin tunes, I would never have completely fallen in love with this song. Where I was when I first heard it, I just can't remember. But it struck such a chord (so to speak) within me that, even today, when I hear it, my eyes immediately close and I try hard to recall.
I just love it. Thank you, Mom.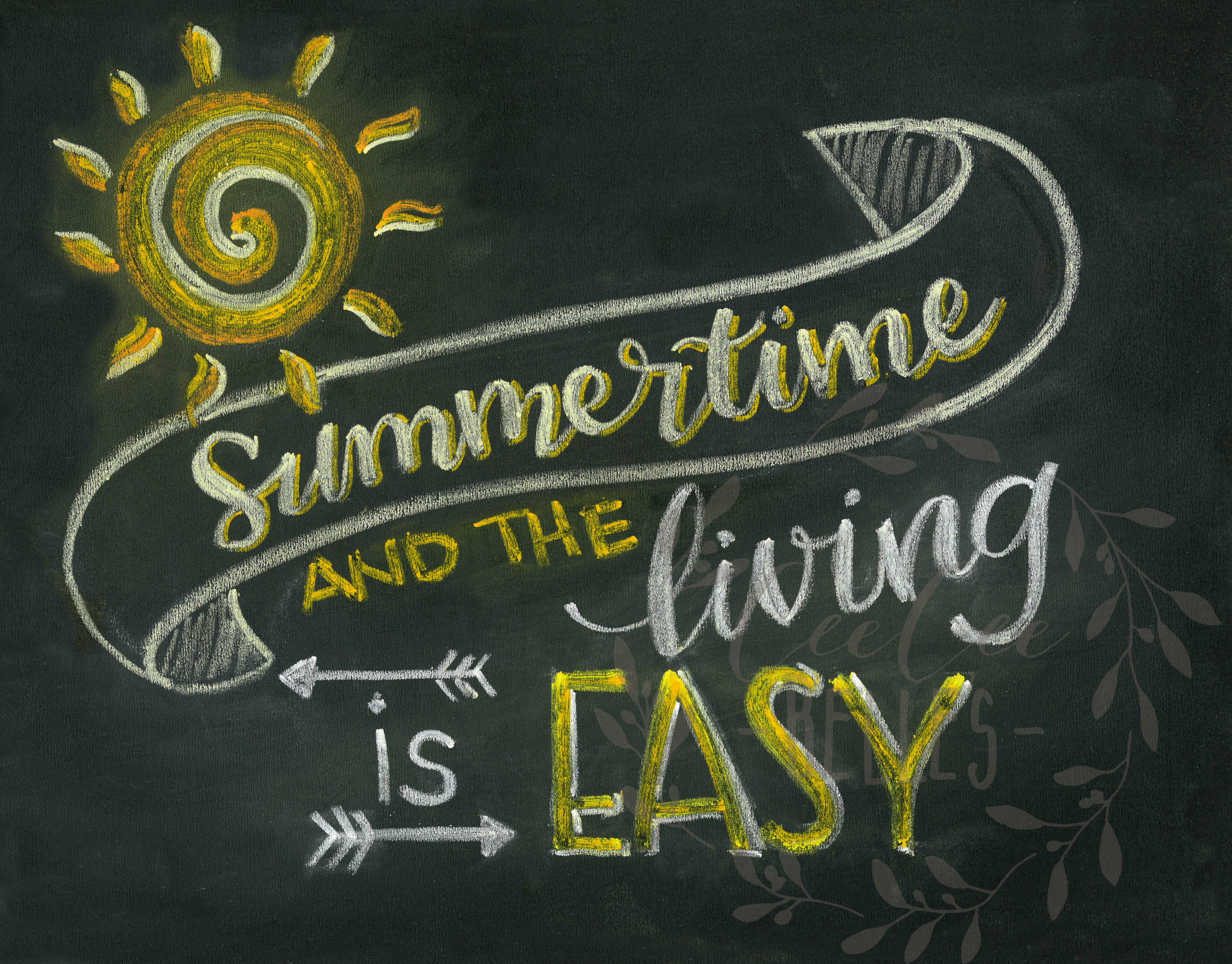 (Get this cute original chalkboard print here. Maybe if I hung this on my office wall and played jazzy tunes all day, we could all just pretend we're on the beach!)
And summer? I love that, too. Like a lot. 
But, let's face it. The livin' might be easy, and the catfish might be jumpin' – but goodness, it's so hot!
Here are 5 Cool Ways to Beat the Heat – and really enjoy what's left of summer. 
Relax at a resort!
(Standing here at the Omni Barton Creek Resort and Spa pool sort of makes you feel like you're in Hollywood. With so many relaxing resorts to choose from in the Texas hill country, you're bound to be able to find just the right one that speaks your language of rejuvenation, be it golf, tennis, cool-as-a-cucumber spa treatments, or spending the day in the lap of luxury – poolside at the Omni.) 
Swim at Barton Springs!
(Barton Springs Pool is on every Austin cool-off list –  for good reason – the water is dang cold! Even on the hottest day of the summer, you'll have to inch yourself in! Available times and entrance fees can be found here.)
Bake a blackberry pie, then top it with ice cream!
(Put on the Gershwin tunes, bake a blueberry, blackberry or peach pie in the coolest part of the day, and then celebrate s-u-m-m-e-r-t-i-m-e with vanilla ice cream on top!  Even better? LEMON ice cream. That's summer in a bowl, right there. My daughter and I made this pie for her husband just shortly before he became her boyfriend. The way to a man's heart, ya' know.) 
Head over to the Hula Hut

!
(Even if it's hot, Hula Hut is the spot. Dinner on the water will cool you off and make you forget any crabbyness in your day. This looks like Hawaii – but it's Austin!)
Make yourself an Orange Juicy

!
(I've been making these Orange Juicy drinks for years. They're so, so good. Blend on the ice crush setting: 1/2 can frozen orange juice concentrate, 1 cup water, 1 cup milk, 1/4 cup sugar, 1 tsp. vanilla, 1/2 tsp almond extract, and 4 cups ice cubes. Sprinkle a little nutmeg or cinnamon on top if you like. Pour into your Yeti from Austin's flagship store, pop in Porgy and Bess on CD, and even your morning commute will be a summer breeze.)
Take a Capitol Tour!
(Tours of Austin's amazing Capitol Building are FREE and occur often. Enjoy some air conditioning while you take a break and learn a little something new. And if that's not enough to quench your summertime thirst for Texas history, head on over for a tour of the Governor's mansion. Reminder: no backpacks, purses, briefcases, strollers, food, gum or water.)
If you're like me, you probably start looking forward to fall about the time you start dreading the end of summer! There are still a few hot summer weeks left, though, and I hope you're set to enjoy every single sultry second.
Because whether you're in your lawn chair at home, or throwing a line in a mountain stream, it's still summertime, and the livin' is still easy. 
Encouraging intentional adventure and an appreciation for your Mom's musicality,